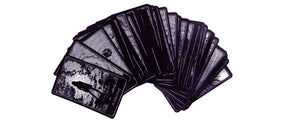 Exclusive Card Reading
Sale price Price $100.00 Regular price
Give the most unique, soulful and powerful gift this season.
One personalized card reading to find the answers to:
Relationship Desires
Career Next Steps
Personal Challenges
Clarity for the New Year
 
30 min online reading with the Broadbent Sisters
TESTIMONIALS:
"My reading was so powerful, it gave me the clarity and confidence to unblock something that I had been struggling with for years."
"I needed a fresh start and this was such a boost of my inner knowing for my next steps."
"The Broadbent Sisters are so gentle and yet powerful in their approach, will definitely be booking a monthly reading."
"These cards held a creative opening that I needed in a difficult time."